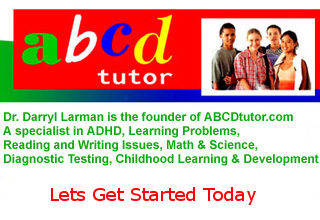 Truths about Dr. Larman's
Tutorial Company
1. Our fees are the lowest of all tutoring companies companies, that offer 1 on 1 tutoring. We offer trained top tutors that keep students from failing and raise their test grades. We have no contracts for our services. Pay as you go! PHD and Master's Degree level tutors for all subjects.
2. Our Money Back Guarantee! If your not happy after your first two tutoring hours or lessons, we will give you a full full refund. In addition, free evaluations included with our 1 on 1 tutoring program.
3. All tutors personally selected by Dr. Darryl Larman, an expert in Learning and Development and a Teacher Trainer who developed the Standards for the Government on how to rate and train a good teacher.
4. Dr. Larman's Research can be found in the Library of Congress and his research demonstrates how to raise student's grades and raise student's I.Q.
Early in his career, Dr. Larman was voted
"Most Outstanding Young Man in America"
along with Dr. Martin Luther King, Jr. and President John F. Kennedy.

Call Dr. Larman Today!
Tutoring Services in Broward, Dade and Palm Beach Counties
Boca Raton, Delray Beach, Boynton Beach, Hollywood, Aventura and North Miami